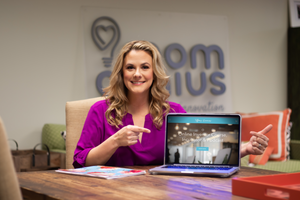 Inventors e-Learning Product Development Course
Sale price Price $119.00 Regular price Unit price / per
Do you have the next BIG IDEA? 

Would you like to learn more about the in's & out's of launching a successful product? 
If so, this guide is for you! 

"If you can't explain it simply, you don't understand it well enough."

- Albert Einstein
Description:
The format of this course is less like a college course and more like a chat with a mentor. My goal is to teach a broad view of the countless twists and turns involved in launching a successful product. It's easy to comprehend, with real-life examples shared throughout the content. It does NOT create the perception that you will "make millions" with your idea. Instead, it shares the reality of what this process entails. 
Oftentimes books or courses share TOO MUCH information and inventors get overwhelmed and spend time and money on all of the wrong things. 

It's my hope that once you complete this online course, you will have one of two things to say about it: 

1. I successfully launched my product, saved money along the way and I feel much more informed & empowered going forward! 

OR 

2. I had NO IDEA what went into launching a successful product. Knowing what I know now, I decided not to go that route thanks to your course! I appreciate you saving me the time and money. Or, you may decide not to move forward with your CURRENT idea, but end up using the course to move forward with a different idea you now realize is a better fit. 
This course includes:
11 Lessons covering the most relevant topics pertaining to launching a product. 
Printable worksheets.

17 lesson-relevant videos of real life stories from my journey that will either inspire you, make you laugh or provide cautionary tales from my experience.
A list of trusted resources. 
Requirements:
Internet access. Login & proof of purchase will be required in order to access the course.  
The ability to print worksheets is preferred, but not required. 
The ability to problem solve and make informed decisions.
This course will cover: 

Lesson 1 - Discovery phase
Lesson 2 - Definitions
Lesson 3 - Prototyping 
Lesson 4 - Get down to Business (Including Intellectual Property)
Lesson 5 - Initial Funding Opportunities  
Lesson 6 - Working with Factories 
Lesson 7 - Packaging 
Lesson 8 - Websites
Lesson 9 - Fulfillment   
Lesson 10 - Selling your Product   
Lesson 11 - Licensing 
+ MORE sweet nuggets of product development knowledge! 
*****NOTE**** The course will be accessible right after purchase, with worksheets emailed at that time. 
You'll be prompted to set up an online registration when purchasing, this is how you will access your course. 
PLEASE REGISTER on the website with the SAME email address you use when purchasing in order to access the course easily! 
Dream BIG,